PO Box 16165
Hornby
Christchurch, 8441
New Zealand
14 Venning Crescent
Cromwell 9310
New Zealand
PO Box 16165
Hornby
Christchurch, 8441
New Zealand
The #1 Moving Company in central otago
Are you planning a relocation to or from Queenstown, Wanaka or Cromwell?

NZ Van Lines is New Zealand's biggest and best resourced moving company. We specialise in furniture removals for international and domestic moves. Proudly 100% New Zealand owned and operated, since 1986 New Zealand Van Lines has been moving individuals, families, and businesses within Aotearoa and around the globe.
Whether you're relocating locally across town, between cities, moving internationally, or relocating from overseas to NZ, we are here to assist. With more than 35 years' experience in the relocation industry you can trust New Zealand Van Lines with your domestic or international move, we can also provide specialist moving services: movers insurance, storage, pet relocations, vehicle shipping, office relocations, settlement services and lots more.
Contact our friendly team today for a no obligation free moving quote, call us on: 0800 362 236 or submit a moving quote form online.
NZ Van Lines Cromwell is Central Lakes' first full-servie relocation and storage facility offering world-class local, long distance, storage and international moving services right to the heart of Central Otago. Take a look at our stunning facility.
NZ Van Lines Central Otago

As one of the South Island's top moving companies NZ Van Lines Cromwell will deliver a premium removal and storage service. With our extensive branch network around the country and a modern fleet of over 150 furniture trucks and trailers on the road, our capacity is limitless!
NZ Van Lines is committed to a sustainable future! We're replacing our road transport fleet with clean burning EURO 6 trucks, having solar energy powering our new warehouses, and creatively upcycling pre-used resources and packing materials.
Our professional team of furniture packers and removalists are trained to international packing standards. You will receive high quality packing for every move whether it be for a local move, inter-city relocation or for an international shipment. You can rest assured we will transport your household effects safely and securely.
Our friendly Cromwell relocation team will help you throughout the entire moving process, from the pre-move survey, to unpacking the last carton at your new residence.
Our Central Otago Moving Services

New Zealand Van Lines offer the perfect combination of over 35 years of industry experience of a traditional removalist and the latest technical know how in the areas of:
Office relocations
Movers Insurance
Pet transport
Vehicle relocation
NZ Van Lines have the best resources in the moving business to deliver a premium 'one company' removal and storage service. We look forward to being of assistance to you.
Request a FREE, no obligation Moving Quote online or call our friendly team on: 0800 362 236.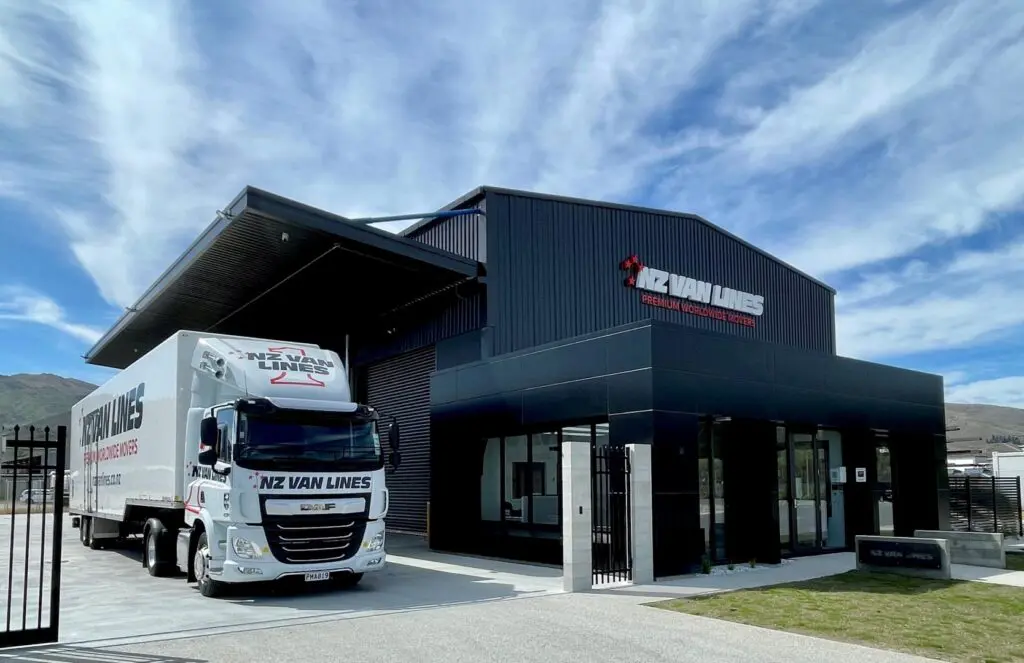 Moving Overseas from Queenstown, Wanaka or Cromwell

Today more and more people are moving overseas, whether for work or personal preference. Overseas moving from requires more than a good removal company. Moving abroad involves in-depth knowledge of shipping and customs regulations.
The New Zealand Van Lines Cromwell branch can advise you in all matters relating to your overseas move. We do this in the comfort of your own home. Our door-to-door service begins with a pre-move assessment and ends with delivery by our chosen partner at your destination – wherever it may be. Our global network of FIDI* accredited partners throughout the world ensures that wherever you're moving overseas you'll receive the same standard of service and professionalism from your home in Central Otago to your new residence at your chosen destination.
*FIDI is a global association consisting of over 600 members in some 120 countries throughout the world. All members must attain the FAIM (FIDI Accredited International Mover) quality standard, which is best described as an industry-specific equivalent to the ISO standard. All members are audited by the global company Ernst and Young, meaning that a FIDI member operates to the same strict standards anywhere throughout the world.
We will provide the appropriate container for your shipment, regardless of size, coupled with world-class international export packing, stowing and handling, all documentation requirements and arranging Customs formalities at origin and destination.
Our Cromwell movers cover the entire Central Otago area, and can provide a complete solution for your international move from Central Otago, wherever your final destination may be.
Queenstown is the Southern Hemisphere's premiere four season alpine and lake resort. Nestled on the shores of Lake Wakatipu and overlooked by the majestic Remarkables Range, Queenstown is the perfect destination all year round.
Summer burns hot under blue skies before cool autumn morning's change the leaves to vivid reds and gentle golds. With crisp, clear days and acres of snow covered mountains, winter is a time for snow enthusiasts, before nature bursts into colourful life during spring.
The town follows the shores of Lake Wakatipu—a deep blue pool of pure mountain water. Framing the picture is The Remarkables range with its purple-brown peaks topped with snow. Swathes of green decorate the area between town and mountain top.
Queenstown was named because '…it was fit for Queen Victoria.' Certainly it's lived up to that expectation. Today it's an exhilarating alpine resort, perfect for both adventurers and leisure seekers.
Wherever you are living, New Zealand Van Lines Central Otago movers can arrange your complete move from door to door. We can arrange for competitive quotations for your move from your overseas residence through to your new home in Central Otago, including packing, shipping, all Customs and Quarantine clearances and delivery to your new home by our Cromwell movers. We can also arrange comprehensive insurance to cover the complete transit from overseas right through to the time our movers deliver your possessions into your new home.
With New Zealand Van Lines you can be confident we will personally take care of all your needs. We measure our success by the feedback from our customers, so it makes sense for us to focus on giving you the very best of service in the hope you'll tell others of your experience with your move to or from Central Otago.
New Zealand Van Lines is your reliable service provider when it comes to a professional, stress-free and competitively-priced move from or to Central Otago, throughout New Zealand or overseas. From careful planning, through to the actual move, our Cromwell team will handle the entire process – efficiently and professionally.
Proudly service the following Central Otago towns and cities: Albert Town, Alexandra, Arrowtown, Bannockburn, Clyde, Cromwell, Hawea, Millers Flat, Naseby, Queenstown, Omakau, Ranfurly, Roxburgh, St. Bathans, and Wedderburn.
Contact our friendly team today for a no obligation free moving quote, call:
0800 362 236
or submit a
quote form
online.
6 Ways to Reduce Your Stress When Moving
We know that we're supposed to tell you that moving is nothing but sunshine and rainbows… but the truth is, moving can be stressful when it's not carried out properly…
Moving house is super exciting for most people, but there's one part of the process that a lot of us dread: unpacking. You've got all this stuff to unpack…
Queenstown moving company reviews
Find out more about new zealand VAN LINES
YOUR MOVING QUESTIONS ANSWERED
We have a selection of frequently asked questions and tips to help you better understand the moving process